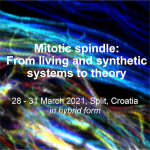 The conference Mitotic Spindle: From living and synthetic systems to theory was held from 28 – 31 March 2021 in a hybrid form with some participants online and some at the Hotel Cornaro in Split. This is a continuation of the international conference on the biophysics of the dividing spindle organized for the first time in Split in 2019.
At the conference 19 invited and 20 selected talks were held, as well as 34 poster presentations organized in 4 poster sessions. Attractive topics, new research results and a dynamic exchange of ideas of leading scientists in the field attracted over 260 registered participants from 18 countries around the world.
The conference was organized by Nenad Pavin from the Faculty of Science and Iva Tolić from the Ruđer Bošković Institute in Croatia. Considering the amazing reactions of the participants who described the conference as the most interesting and dynamic in recent times, the organizers have already started to organize the next edition in two years, which will hopefully be held in person in Split.
The conference is supported by the Croatian Science Foundation and the European Research Council.